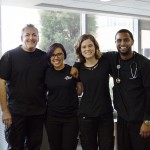 I invite you to join Lakeland Regional Health as we celebrate our incredible nurses and the outstanding care they provide to our community every day. Today marks the beginning of National Nurses Week, an annual celebration of nurses everywhere. The week-long celebration runs from May 6 to May 12 each year.
At Lakeland Regional Health, our Promises support our commitment to deliver the highest quality care. As we celebrate our nurses, I am in awe of their unwavering dedication and commitment each and every day to live our Promises to treasure, nurture and inspire those we are privileged to serve. Together, they work tirelessly to ensure that each patient served receives compassionate, quality and safe care. Their focus on quality and safety aligns perfectly with this year's National Nurses Week theme: "Culture of Safety, It Starts With You."
We recognize and thank our nurses for their hard work and the impact they make in the lives of the many patients we care for as advocates and industry leaders.
This week, we encourage you to recognize and honor special nurses that have touched your life. For the many reasons that make our nurses extraordinary, we are privileged to have such an outstanding team.