Lakeland, FL – Registration is now open at PromiseRun.org for the fourth annual Lakeland Regional Health Hollis Cancer Center Promise Run on Saturday, March 3, 2018. The Promise Run continues its tradition as the most popular race in the area.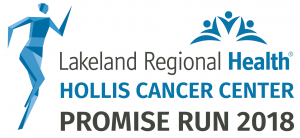 Because of overwhelming participation numbers, the certified 5k and 10k courses will now begin and end at the picturesque Lake Mirror Promenade in Downtown Lakeland. The 10k, which begins at 7 a.m., winds around Lakes Morton, Hollingsworth and Mirror. The 5k, which starts at approximately 8:35 a.m., goes around Lakes Morton and Mirror.
Early registrants receive a discounted rate. Registration includes a technical running shirt, medal for those completing the run, an opportunity to earn a trophy, attendance at the post-race awards ceremony and refreshments. Child care is available through Explorations V Children's Museum, and a free children's run will be offered after the 5k is complete.
Last year's Promise Run drew nearly 2,000 runners, walkers and volunteers. Since the Promise Run's inception in 2015, more than $600,000 has been raised toward funds needed to operate the Hollis Cancer Center. Hollis Cancer Center's oncologist team and nationally recognized oncology care continue to expand to offer patients and their families all the services necessary to conquer cancer.
"We are inspired by the overwhelming community support for our Promise Runs," said Timothy J. Boynton, Associate Vice President, Lakeland Regional Health Foundation. "Runners, walkers, cancer survivors, families of cancer patients, Lakeland Regional Health team members and donors come together each year to make this an amazing charity event. We appreciate the many heroes who commit to make Promise Run 2018 an even bigger success."
Those with questions can call 863.687.1024 or email PromiseRunInfo@myLRH.org.
About Lakeland Regional Health Hollis Cancer Center
Lakeland Regional Health Hollis Cancer Center provides specialized cancer care services, including medical oncology, hematology, radiation oncology, gynecologic oncology, surgical oncology and urologic oncology. The Hollis Cancer Center's board-certified physicians and team of clinical and research professionals use state-of-the-art technology to provide the best possible outcomes for cancer patients. Becker's Hospital Review named Lakeland Regional Health one of 101 Hospitals and Health Systems with Great Oncology Programs for 2016. Currently, the Hollis Cancer Center is participating in 34 clinical trials and its research over the years has helped to bring 50 FDA-approved chemotherapy and biologic medications to the marketplace. Lakeland Regional Health Hollis Cancer Center, accredited by the National Accreditation Program for Breast Centers and accredited with commendation by the Commission on Cancer, recently underwent a 21,800-square-foot expansion.
About Lakeland Regional Health Foundation
As a charity healthcare organization, Lakeland Regional Health is dedicated to providing effective, safe, timely, efficient and equitable care to all members of the communities it serves, regardless of a patient's ability to pay for services. The Lakeland Regional Health Foundation was created as a not-for-profit 501(c)(3) organization in 1971 to support Lakeland Regional Health's work to deliver nationally recognized healthcare, strengthen the health of the community and advance the future of healthcare for those it serves. 100% of all donations are invested in clinical programs, facilities and equipment used to care for patients. For more information about Lakeland Regional Health Foundation, visit http://foundation.myLRH.org.