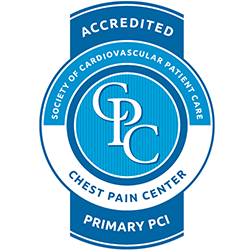 Lakeland Regional Health's Chest Pain Center has earned Primary PCI Accreditation from the Society of Cardiovascular Patient Care, making it the longest accredited Chest Pain Center in Polk County. This three-year re-accreditation begins July 31, 2016.
"We are so pleased to be able to offer such a high level of care at the area's most established chest pain facility," said Mack Reavis, MD, Lakeland Regional Health Chief Medical Officer and Lakeland Regional Health Medical Center President. "Our team members hold themselves to a very high standard of patient care."
Lakeland Regional Health's Chest Pain Center has been at the forefront of coordinating the timeliest acute heart attack care possible with Polk County's Emergency Management Services. Because each minute is critical with heart attack care, this collaboration authorizes paramedics to initiate the call that brings in the on-call cardiac interventional team at Lakeland Regional Health Medical Center. The national benchmark put forth by the Society of Cardiovascular Patient Care for acute heart attack care is 90 minutes or less. With the EMS initiative, the Lakeland Regional Health Chest Pain Center consistently treats acute heart attack patients in 40 to 45 minutes.
"When we empower paramedics to initiate care of a heart attack patient while in transport to our Medical Center and therefore save critical time, our results show a tremendous improvement in the outcome of our patients," said John Canto, MD, FACC, MSPH, Director, Lakeland Regional Health Chest Pain Center.
Heart attacks are the leading cause of death in the United States, with 600,000 people dying annually of heart disease. More than 5 million Americans visit hospitals each year with chest pain.
An Accredited Chest Pain Center's evidence-based, protocol-driven and systematic approach to cardiac patient care allows clinicians to reduce time to treatment during the critical early stages of a heart attack. "PCI" stands for percutaneous coronary intervention, the primary treatment for acute heart attacks.
By achieving this Primary PCI Accreditation status, Lakeland Regional Health demonstrates expertise in:
Integrating the Emergency Department with local Emergency Medical Services
Assessing, diagnosing and treating patients quickly
Effectively treating patients at low risk for acute coronary syndrome and no assignable cause for their symptoms
Continually seeking to improve processes and procedures
Ensuring the competence and training of Accredited Chest Pain Center team members
Maintaining organizational structure and commitment
Constructing a functional design that promotes optimal patient care
Supporting community outreach programs that educate the public to promptly seek medical care if they display symptoms of a possible heart attack
In addition to a nationally recognized Chest Pain Center, Lakeland Regional Health's Heart Center is proud to offer Centers of Excellence in Heart Rhythm, Cardiothoracic Surgery and Interventional Cardiology.
About Lakeland Regional Health
As a catalyst for community health, not-for-profit Lakeland Regional Health is reaching beyond its hospital walls to promote wellness, education and discovery in new places and new ways, providing a wide range of inpatient and outpatient healthcare services at its Medical Center, Hollis Cancer Center and ambulatory care locations. LRH holds Most Wired Advanced status from American Hospital Association's Health Forum and the College of Healthcare Information Management Executives and has earned workplace awards from Forbes, Gallup and Becker's Hospital Review. Its 849-bed comprehensive tertiary referral hospital, Lakeland Regional Health Medical Center, operates a Level II Trauma Center, a Level II Neonatal Intensive Care Unit, the Bannasch Institute for Advanced Rehabilitation Medicine and the state's busiest single site Emergency Department. For more information about Lakeland Regional Health, visit http://myLRH.org.
About the Society of Cardiovascular Patient Care
The Society of Cardiovascular Patient Care (SCPC) is an international, not-for-profit organization that focuses on transforming cardiovascular care by assisting facilities in their efforts to create cardiovascular centers of excellence that deliver quality care and patient satisfaction in a cost sensitive environment. As the accreditation services arm of the American College of Cardiology, SCPC offers individual hospitals and hospital systems the support needed to effectively reduce variations of care and bridge existing gaps in treatment. Through its collaboration with actively engaged, multidisciplinary teams, SCPC is Taking Science to the Bedside™ and improving outcomes in the management of heart disease. For more information about SCPC's accreditation and certification opportunities, visit www.scpc.org, or call toll-free 877.271.4176.