Guest Speakers Include Sheriff Grady Judd and Nationally Recognized Anti-Bullying Expert Jaylen Arnold
Lakeland, FL – Parents and preteens are invited to the important Safeguarding Your Preteen event on Thursday, July 26, from 5:30 to 7:30 p.m., featuring Polk Sheriff Grady Judd and nationally known anti-bullying proponent Jaylen Arnold.
The event, free and open to the community, will take place in the new Carol Jenkins Barnett Pavilion for Women and Children on the south side of the Medical Center Campus, 1324 Lakeland Hills Blvd.
Judd, who has served as Polk County Sheriff since 2004, is a staunch advocate for raising awareness among parents and youth over the dangers of cyberbullying. He will offer advice and insight on how texting and social media have changed the way preteens and teens communicate with each other – and not always in a positive way. Sometimes, as in the case with social media threats of school shootings and suicides, his law enforcement officers must step in to ensure lives are not endangered.
Jaylen Arnold, recipient of the 2017 Princess Diana Legacy Award, is a Lakeland teenager who founded Jaylen's Challenge Foundation nine years ago to combat bullying. Now 17 years old, Jaylen speaks about bullying from firsthand experience. His symptoms of Tourette syndrome, Asperger's syndrome and obsessive compulsive disorder unfortunately made him a target for being picked on by other children. He now goes around the country as part of his Bullying No Way mission, which is "The more we understand each other, the more we will love the differences we have and the similarities we share." For more information about Jaylen, please visit www.JaylensChallenge.org.
In addition, Lakeland Regional Health Child and Adolescent Psychiatrist Aarti Patel will share with parents how to handle their preteen's requests for access to video games, social media, cell phones and other electronic devices – and any ensuing discussions about privacy, responsible communications and unhealthy behaviors.
Preteens who attend will have a separate, more personal discussion with Jaylen Arnold.
Light dinner will be served. RSVPs are required by July 23, 863.687.1400.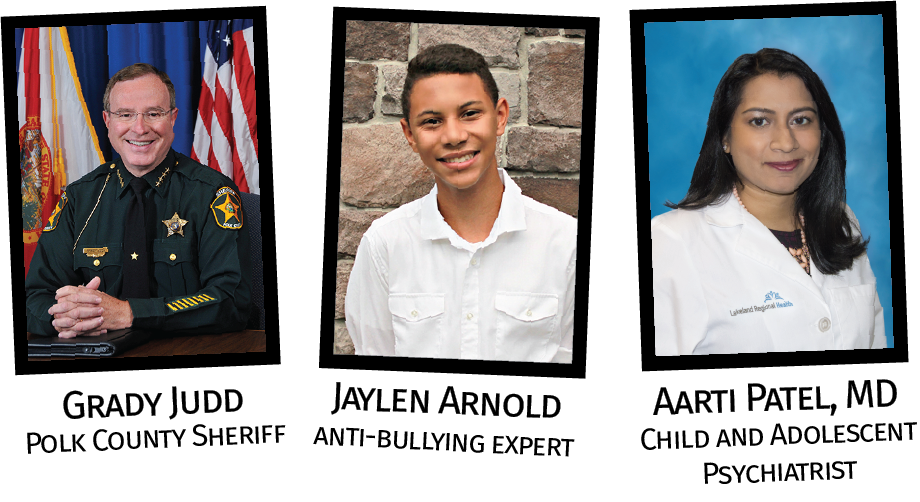 About Lakeland Regional Health
Not-for-profit Lakeland Regional Health reaches beyond its hospital walls to promote wellness, education and discovery in new places and new ways, providing a wide range of inpatient and outpatient healthcare services at its Medical Center, Hollis Cancer Center and ambulatory care locations. Lakeland Regional Health earned Most Wired Advanced and Most Wired status four times since 2013 from the American Hospital Association and has earned workplace awards from Forbes, Gallup and Becker's Hospital Review. Its 864-bed comprehensive tertiary referral hospital, Lakeland Regional Health Medical Center, operates the Carol Jenkins Barnett Pavilion for Women and Children, a Level II Trauma Center and the Bannasch Institute for Advanced Rehabilitation Medicine