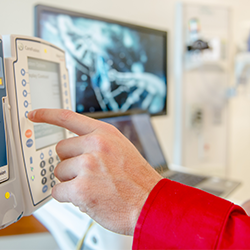 Lakeland Regional Health is pleased to announce it has once again earned an "A" rating on the Hospital Safety Scorecard from the Leapfrog Group today. The Leapfrog Group compares more than 2,500 hospitals using rigorous reporting criteria for 30 measures. Lakeland Regional Health, which also earned an "A" on Scorecards in April 2015 and October 2015, is one of 798 hospitals receiving an "A" grade this month.
"We are proud of our physicians and clinicians at Lakeland Regional Health Medical Center who work hard to provide high-quality, safe and efficient care to our patients," said Mack Reavis, MD, Lakeland Regional Health Medical Center President and Lakeland Regional Health Chief Medical Officer. "This 'A' marks us as one of the highest-performing hospitals in the United States."
"Our team continuously strives to ensure patient safety by applying evidence-based industry best practices to all we do at Lakeland Regional Health Medical Center. Being able to sustain this extremely high level of care, as this 'A' recognition shows, is the result of collaboration and dedication to the wellbeing of our patients," said Timothy J. Regan, MD, Lakeland Regional Health Senior Chief Quality Officer and Senior Chief Medical Informatics Officer.
The Leapfrog "A" grade is one of the most significant honors a hospital can earn. The Hospital Safety Score is considered the gold standard rating in evaluating hospital performance on quality, safety and resource use, and it is one of the most important indicators for patients looking for a safe place to receive care. A hospital's safe practices are rated on awareness, accountability, ability and action.
The voluntary, free Leapfrog Group Survey is conducted twice a year by the national not-for-profit organization and is focused on promoting transparency and value-based hospital incentives. For the first time, the Hospital Safety Score includes five measures of patient-reported experience with the hospital as well as two of the most common infections, C diff and MRSA. The organization is endorsed by the National Quality Forum. The rating signifies how well hospitals protect patients from errors, injuries, accidents and infections. Leapfrog not only uses data from its survey but also from other sources, such as the American Hospital Association and Centers for Medicare and Medicaid Services. Though the Leapfrog Group Survey provides a snapshot of care, it is by no means the only source of information available to healthcare consumers.
"Hospitals that earn an 'A' from Leapfrog are leaders in saving lives, and we commend them and urge their continued vigilance," said Leah Binder, President and Chief Executive Officer of The Leapfrog Group, which administers the Hospital Safety Score.
In July 2015, Lakeland Regional Health was one of just six of the nation's hospital and healthcare systems to earn Most Wired Advanced™ status from the College of Healthcare Information Management Executives, the American Hospital Association's Health Forum and Hospitals & Health Networks® for demonstrating excellent technology capabilities in infrastructure, business and administrative management, clinical quality and safety, and clinical integration. 2,213 hospitals were represented in the 17th annual Most Wired™ Survey.
In addition to being rated highly for its patient care, Lakeland Regional Health has earned several international and national workplace honors this year. Lakeland Regional Health recently was named to Forbes' list of America's Best Mid-Size Employers for 2016. The healthcare system also was featured on the 2016 Becker's Hospital Review list of "150 Great Places to Work in Healthcare."
About The Leapfrog Group
Founded in 2000 by large employers and other purchasers, The Leapfrog Group is a national not-for-profit organization driving a movement for quality and safety in American healthcare. The Hospital Survey and the Hospital Safety Score are two of Leapfrog's big initiatives, collecting and transparently reporting hospital performance and allowing consumers to find the highest-value care and make informed decisions.
About Lakeland Regional Health Medical Center
Lakeland Regional Health Medical Center is Florida's fifth largest hospital. Founded in 1916 as Morrell Memorial Hospital, this 849-bed, comprehensive tertiary referral hospital operates a Level II Trauma Center, a Level II Neonatal Intensive Care Unit, and the state's busiest single site Emergency Department. It handles over 1,300 trauma visits annually and holds accreditations for its Advanced Primary Stroke Center and Chest Pain Center. Three hybrid operating rooms and a catheterization lab offer patients the least invasive surgeries possible and enhanced safety. Its Emergency Department has earned the 2014 Innovation of the Year from the Florida Hospital Association and the 2014 EmCare Genesis Cup Award. In 2015, the state-of-the-art, 32-bed Bannasch Institute for Advanced Rehabilitation Medicine opened to provide evidence-based, innovative inpatient therapeutic rehabilitation services designed to dramatically improve patient outcomes. For more information about Lakeland Regional Health, visit http://myLRH.org.