Lakeland, FL – Lakeland Regional Health is pleased to announce it is one of the nation's Most Wired hospitals and healthcare systems, as announced this week by the American Hospital Association's Health Forum. This is the fourth time that Lakeland Regional Health earned Most Wired® recognition.
According to the American Hospital Association, there are 5,564 hospitals in the United States. Out of more than 2,158 hospitals represented in the 19th annual Health Care's Most Wired® Survey, only 461 met Most Wired criteria. The Most Wired Survey® is considered an industry-standard benchmark study measu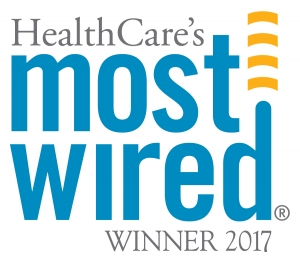 ring information technology use and adoption among hospitals and healthcare systems throughout the country. This year's Survey found that many of the nation's hospitals are using smart phones, telehealth and remote monitoring to create more ways for patients to access healthcare services and capture health information.
To achieve Most Wired status, an organization must demonstrate advanced capabilities in infrastructure, business and administrative management, clinical quality and safety, and clinical integration.
"We are so proud to be honored as one of the top-tier healthcare technology leaders in the country," said Elaine C. Thompson, PhD, FACHE, Lakeland Regional Health President and CEO. "This accomplishment exemplifies the many ways our exceptional team is working together to provide safe, efficient and high-quality healthcare to those we serve."
"We are excited about the success of various applications in use today at Lakeland Regional Health that help us deliver the highest levels of clinical quality, patient safety, and patient and family engagement," said Hal Escowitz, MD, Lakeland Regional Health Chief Quality and Medical Informatics Officer. "Our tremendous achievements are possible through strong collaborations between our Information Technology department, our organizational leaders and our clinical team members."
In addition to Lakeland Regional Health, other Most Wired healthcare systems include Mayo Clinic Hospital in Rochester, Minnesota; Yale New Haven Health System, New Haven, Connecticut; Bon Secours Baltimore Health System; Nemours Children's Health System, Jacksonville, Florida; and Orlando Health.
Examples of advanced technology initiatives at Lakeland Regional Health include:
Fully digital health record implemented across Lakeland Regional Health Medical Center and all Lakeland Regional Health's ambulatory campuses.
Sepsis Crawler, an electronic system that monitors a patient's vital signs and lab results to identify patients who may be at risk of developing blood infections.
Predictive data analytics, such as readmission predictors, which help clinical team members identify patients who may need special attention. From Fiscal Year 2015 to Fiscal Year 2016, we have reduced central line infections by 27.1% and use of urinary catheters by 14.9%. Our falls rate has improved by 15.1%, pressure ulcers by 4.1%, punctured lung by 28%, and blood clots in lung or leg by 23.7%.
Case management application for patients transitioning out of our acute care facility.
"The Most Wired hospitals are using every available technology option to create more ways to reach their patients in order to provide access to care," said Rick Pollack, President and CEO of the American Hospital Association. "They are transforming care delivery, investing in new delivery models in order to improve quality, provide access and control costs."
Lakeland Regional Health is listed in the most recent issue of Hospitals & Health Networks magazine and will be honored during the American Hospital Association Leadership Summit from July 27 to 29, 2017 in San Diego.
About the 2017 Most Wired Survey
The survey was available online from January 15, 2017, through March 15, 2017. Detailed results of the survey and study can be found in the July issue of Hospitals & Health Networks publication. Hospitals & Health Networks, a leading publication for hospital and system executives, is published by the American Hospital Association (AHA). Nearly 5,000 healthcare systems and care providers and 43,000 individual members come together to form the AHA.
About Lakeland Regional Health
As a catalyst for community health, not-for-profit Lakeland Regional Health is reaching beyond its hospital walls to promote wellness, education and discovery in new places and new ways, providing a wide range of inpatient and outpatient healthcare services at its Medical Center, Hollis Cancer Center and ambulatory care locations. LRH holds Most Wired status from American Hospital Association's Health Forum and Clearwater Compliance LLC and has earned workplace awards from Forbes, Gallup and Becker's Hospital Review. Its 849-bed comprehensive tertiary referral hospital, Lakeland Regional Health Medical Center, operates a Level II Trauma Center, a Level II Neonatal Intensive Care Unit, the Bannasch Institute for Advanced Rehabilitation Medicine and the nation's busiest single site Emergency Department. For more information about Lakeland Regional Health, visit http://myLRH.org.
# # #