Lakeland, FL – Lakeland Regional Health announces that the Lung Cancer Alliance designated its Hollis Cancer Center a Screening Center of Excellence for its ongoing commitment to responsible, high-quality screening practices.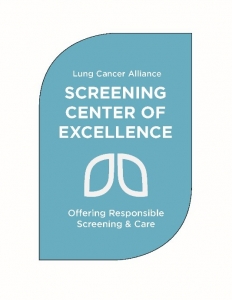 "We are so proud to be recognized as one of the top lung cancer care centers in the country," said Elaine C. Thompson, PhD, FACHE, Lakeland Regional Health President and CEO. "This designation exemplifies the many ways our Hollis Cancer Center team collaborates to provide safe, efficient and high-quality healthcare to those we serve."
Lakeland Regional Health is one of only 33 hospitals and health systems with this designation, and the only such one in Polk County.
Designated Screening Centers of Excellence are committed to provide clear information based on current evidence on who is a candidate for lung cancer screening, and to comply with comprehensive standards based on best practices developed by professional bodies such as the American College of Radiology, the National Comprehensive Cancer Network and the International Early Lung Cancer Action Program for controlling screening quality, radiation dose and diagnostic procedures within an experienced, multidisciplinary clinical setting.
Hollis Cancer Center's Lung Cancer Screening Program is jointly run by Hollis Cancer Center and Radiology and Imaging Specialists at Lakeland Regional Health. It is one example of the valuable nine-year affiliation known as RIS at Lakeland Regional Health. Led by Sushma Nakka, MD, LRH Medical Oncologist and Hematologic Oncologist, and Christian Schmitt, MD, Radiologist at RIS at Lakeland Regional Health, the Lung Cancer Screening Program had a successful first year. Out of 160 patients screened, five were diagnosed with lung cancer. Low-dose chest CT scans for lung cancer can be carried out safely, efficiently and equitably to save thousands of lives every year. Those ages 47 to 80 who currently smoke or quit smoking within the last 15 years, and have a smoking history of 1 pack per day for 30 years or 2 packs per day for 15 years, are candidates for a lung cancer screening. To learn more or make an appointment for a screening, call 863.577.0258.
"We are proud and honored to be working with Lakeland Regional Health as a Lung Cancer Alliance Screening Center of Excellence," said Laurie Fenton Ambrose, Lung Cancer Alliance President and CEO. "Their commitment to practice responsible lung cancer screening will lead to advancements in research and many lives saved. They are an example to follow."
To share this new Lung Cancer Screening Program and educate the community about the importance of screenings, Lakeland Regional Health will present its first Lung Cancer Symposium on Wednesday, November 15, 2017. The program is free and open to the community.
"This Screening Center of Excellence designation gives patients and their families the comfort and confidence of knowing that Hollis Cancer Center will provide them with nationally recognized cancer care," said Graham F. Greene, MD, FACS, FRCS, Hollis Cancer Center Executive Director/Lakeland Regional Health Chief Academic Officer. "We are dedicated to educating the community about the importance of detecting lung cancer early and to walking with patients and their families every step of the way, from diagnosis and treatment to surgery and life after cancer."
Lakeland Regional Health was named one of "101 Hospitals and Health Systems with Great Oncology Programs" in 2016 by Becker's Hospital Review. Hollis Cancer Center's Radiation Oncology program is accredited by the American College of Radiation Oncology and is accredited with commendation by the Commission on Cancer.