We are dedicated to providing our patients with the most comprehensive services for all breast conditions in a patient-centered, compassionate environment. Together, we will work to restore your health as expeditiously as possible.
Conditions we treat:
Breast cancer
Personal and family history of breast cancer
High-risk clinic, including genetic screening
Benign breast mass
Nipple discharge
Mastitis
Breast pain
Our breast surgeons are fellowship-trained experts. We use the most up-to-date technology and minimally invasive procedures, as well as advanced breast-conservation techniques and reconstructive surgery.
You will have peace of mind knowing that you are receiving world-class care here in our community.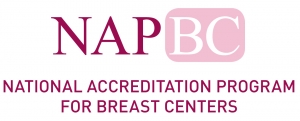 Our breast cancer program is fully accredited by the National Accreditation Program for Breast Centers, overseen by the American College of Surgeons. In 2009, we became the 52nd designated center in the country and only the second in Florida to achieve this distinction. In 2012 and 2015 the Lakeland Regional Health Hollis Cancer Center was awarded a full three-year re-accreditation. This achievement shows that our multi-disciplinary team is dedicated to providing the best care possible.
To receive this accreditation, the Hollis Cancer Center complied with standards established by the NAPBC for treating women who are diagnosed with the full spectrum of breast disease. These standards include proficiency in leadership, clinical management, research, community outreach, professional education and quality improvement.
This accreditation gives patients considering Lakeland Regional Health Hollis Cancer Center confidence that they will have access to comprehensive, state-of-the-art care; a multidisciplinary care approach; information about ongoing clinical trials and new treatments; and quality breast care close to home.