By JENNIFER CIPRIANO, BSN, RN, CMSRN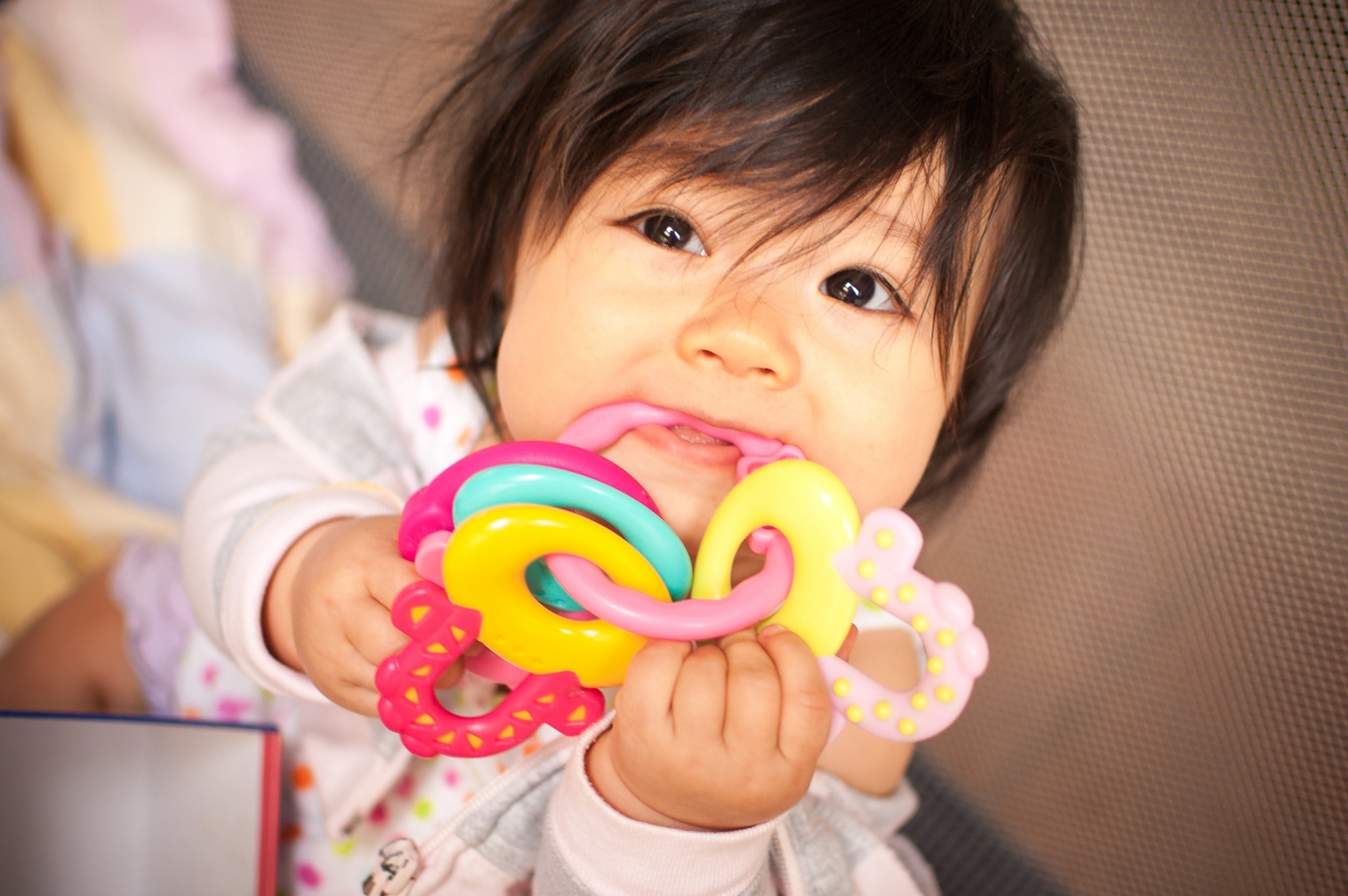 Are you living with a human vacuum?
For many infants and toddlers, the incessant need to drool, suck and teethe can sometimes result in unintentional injuries related to choking on food, everyday objects and toys. In December, the U.S. Food and Drug Administration issued a warning related to trendy teething jewelry:
"The FDA is alerting parents, caregivers, and health care providers that necklaces, bracelets, and other jewelry marketed for relieving teething pain should not be used with infants or to provide sensory stimulation to persons with special needs, such as autism or attention-deficit/hyperactivity disorder. Such use could lead to strangulation, choking, serious injuries, or death. The safety and effectiveness of teething jewelry to treat teething pain and/or provide sensory stimulation have not been established."
Follow these tips to reduce the risk of choking:
FOODS
Cut food into tiny pieces for toddlers
Children under 5 years old should not eat small, hard or round foods such as grapes, hot dogs, popcorn, cheese chunks, marshmallows or nuts
Always supervise babies and toddlers when they are eating
Have younger children eat in a highchair or at the table and never while running, laying down or playing
EVERYDAY OBJECTS
Keep small objects out of reach
Gain perspective to your child's world by getting on the floor and looking at things from their eye level, then remove all items that may increase their risk of choking
Be on the lookout for magnets and remove them from your child's reach as magnets pose both a choking risk and can cause a medical emergency if ingested
Beware of colorful packets of detergent for washers and dishwashers.
Batteries that look like buttons or coins can cause severe illness and death.
If swallowed separately at different times, magnets can stick together and severely pinch the inside of the body and cause damage to the gut.
TOYS AND ACCESSORIES
Find the perfect toy for your child's age by reading instructions and warning labels
Check toys for any small parts or other potential choking hazards
As mentioned above, avoid teething necklaces and bracelets
It is impossible to prevent all choking episodes, however, parents and caregivers can prepare for emergencies by learning CPR and choking first aid. Some parents and grandparents maybe have seen items in stores referred to as anti-choking devices. These anti-choking devices are not proven to aid in choking episodes. Nothing replaces the knowledge of how to perform the Heimlich maneuver and other choking first aid steps.
SOURCES: Safe Kids Worldwide, National Safety Council, American Academy of Pediatrics, FDA
About the Author
Jennifer Cipriano, BSN, RN, CMSRN, is the Trauma Continuum of Care Coordinator for Lakeland Regional Health.