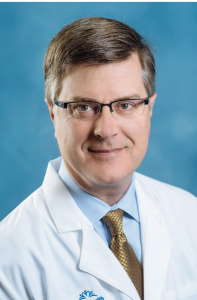 By GRAHAM F. GREENE, MD
We received some very reassuring news from the American Cancer Society last month.
The American Cancer Society provides a valuable resource each year in reporting national cancer statistics within each state, nationally and with other countries.  The number of newly diagnosed cases each year and the number of deaths resulting from those cancers help us interpret how well we are doing in the battle against cancer.  Our overall goal is to decrease death due to cancer and to improve the lives of those patients living with cancer. The latest report, released in early January, shows that cancer deaths have decline 21% since 1991!
At our Hollis Cancer Center, we offer all the services necessary to conquer cancer. Our renowned cancer specialists and team are dedicated to redefining and uplifting the standards of cancer care. As such, we know that early detection not only saves lives but also has the potential of reducing the overall cost of cancer care with early treatment. The challenge of any cancer screening test has been keeping the physical, financial and emotional impact low while detecting cancers that we know have treatments that prolong life with minimal toxicity.
With this great news about the decline in deaths comes findings that some cancer incidence rates have increased. Some have suggested this is merely a reflection of improved cancer screening efforts. More importantly is that while the cancer incidence of some tumors are going up, cancer rates are falling. Over the last few decades, we have seen the positive effect of screening for lung cancer, prostate cancer and colon cancer. The opportunities for health screenings are not the same throughout our country. Public awareness is critical in getting these patients to a health provider to get the best evidence-based screenings.
Once diagnosed, patients then need appropriate health care coverage to undergo appropriate diagnosis and treatment of their cancer. Finding the best screening tests, early detection and public awareness are our priorities at Lakeland Regional Health. For instance, we have the opportunity to eradicate human papilloma virus-related malignancy (HPV), such as cervical cancer, by making an otherwise healthy portion of our young population aware of the risks and provide affordable vaccination and testing. Often, the segments of our population that are at highest risk for acquiring cancer do not have this vital information, do not have health insurance or are intimidated by the potential cost and therefore neglect their health.
This recent American Cancer Society report is encouraging in that it affirms our efforts to try to cure cancer and improve the length of our patients' lives. Moreover, it re-energizes our efforts to educate the community and to search for new screening tests and treatments that detect cancers while maintaining the quality of life of our patients.
To learn more about the Hollis Cancer Center, call 863.603.6565.
About the Author
Graham F. Greene, MD, FACS, FRCS, serves as Executive Director of the Lakeland Regional Health Hollis Cancer Center. He is a Fellowship-trained Urologic Oncologist who has published numerous works and participated in multiple clinical trials throughout his career.