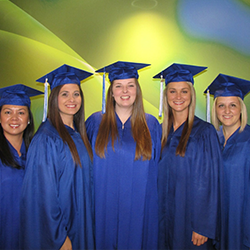 Lakeland, FL – Five women proudly graduated from Lakeland Regional Health's School of Radiologic Technology on Thursday, June 23, 2016, at the Hollis Cancer Center Auditorium.
The graduates are Blue Ecleo, Shanah Morales, Kayla O'Leary, Chelsea White and Hannah Wood.
All graduates sat for and passed the national certification exam by the American Registry of Radiologic Technologists to become Registered Technologists in Radiography. They are now eligible to take the computed tomography (CT) certification exam.
"We are so impressed by our Class of 2016 School of Radiologic Technology graduates," said Mack Reavis, MD, Lakeland Regional Health Chief Medical Officer and Lakeland Regional Health Medical Center President. "These students went through intense one-on-one interaction with their instructors and were exposed to many radiologic disciplines they wouldn't necessarily experience elsewhere."
Graduates and their families, along with Lakeland Regional Health radiology team members, celebrated with a special ceremony on Thursday.
The School of Radiologic Technology is accredited through 2022 for its certificate radiography program by the Joint Review Committee on Education in Radiologic Technology. Students at Lakeland Regional Health's School of Radiologic Technology, founded in 1965, acquire the knowledge and skills necessary for professional competence through a blend of classroom and clinical education.
Information about the Lakeland Regional Health School of Radiologic Technology can be found at https://mylrh.org/doctors-departments/school-of-radiologic-technology.
About Lakeland Regional Health
As a catalyst for community health, not-for-profit Lakeland Regional Health is reaching beyond its hospital walls to promote wellness, education and discovery in new places and new ways, providing a wide range of inpatient and outpatient healthcare services at its Medical Center, Hollis Cancer Center and ambulatory care locations. LRH holds Most Wired Advanced status from American Hospital Association's Health Forum and the College of Healthcare Information Management Executives and has earned workplace awards fromForbes, Gallup and Becker's Hospital Review. Its 849-bed comprehensive tertiary referral hospital, Lakeland Regional Health Medical Center, operates a Level II Trauma Center, a Level II Neonatal Intensive Care Unit, the Bannasch Institute for Advanced Rehabilitation Medicine and the state's busiest single site Emergency Department. For more information about Lakeland Regional Health, visit http://myLRH.org.
Photo caption: Blue Ecleo, from left, Kayla O'Leary, Hannah Wood, Chelsea White and Shanah Morales celebrate their graduation from Lakeland Regional Health's School of Radiologic Technology on June 23, 2016.
Photo credit: Provided by Lakeland Regional Health
# # #