We invite you to jump-start your New Year's resolutions at two free Living Well & Eating Better community gatherings on Thursday, January 18, 2018 at our beautiful Hollis Cancer Center Campisi Family Auditorium, 3525 Lakeland Hills Blvd.
Special Guest Donald Hensrud, MD, Mayo Clinic's Healthy Living Program Director, will motivate guests as he brings to life the essentials of The New York Times bestselling book, The Mayo Clinic Diet. Each guest will receive a complimentary copy of the hardcover book to bring home for continued use.
A special nutritious lunch will be served during the afternoon program from 11:00 a.m. to 1:00 p.m., and a delicious, healthy dinner will be prepared for the evening program from 5:00 to 7:00 p.m. – all featuring recipes from The Mayo Clinic Diet. Lakeland Regional Health dietitians, physical therapists and community health experts will be on hand to screen guests for balance, blood glucose levels, blood pressure, body mass index and weight.
In addition, a Mayo Clinic Registered Dietitian will make a special appearance to lead breakout sessions on children's nutrition and healthy eating on a budget.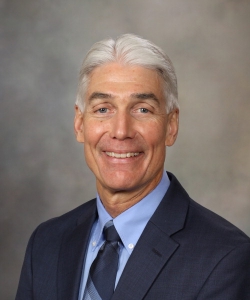 Dr. Hensrud is an Associate Professor of Nutrition and Preventive Medicine in the Mayo Clinic College of Medicine and Science. He writes and lectures on lifestyle and nutrition topics and has written several books, including The Mayo Clinic Diet and two award-winning cookbooks.
"Why did we write The Mayo Clinic Diet? Because you wanted it," Dr. Hensrud writes in the book's foreword. "Bogus Mayo Clinic diets have been circulating for decades. These diets have no connection to Mayo Clinic, but their popularity told us that people are hungry for a diet based on Mayo's research and clinical experience."
Those who attend the event will receive participatory gifts and enrollment in an ongoing discussion on healthy eating and active living.
RSVPs are required. To RSVP for an event, call 863.687.1400 or click here. Space is limited. Deadline to RSVP is January 10.