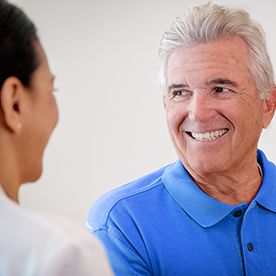 At Lakeland Regional, we are at the forefront of change. We are re-examining how we do things for patients and their families, and ultimately, for the benefit of our community as a whole. We recognize that to be effective, this change must start from within.
We researched, read, discussed and tested. We examined ourselves, as individuals and team members, and discovered key motivators to bringing our best every day – for ourselves, our colleagues, our community, and, most of all, for our patients and their families.
Out of all of this, Dr. Joanne Duffy's Quality-Caring Model© made a significant impression on our team. What resonated most was the relationship-centered focus of Duffy's model, which highlights caring for patients and families, caring for self, caring for our health team and caring for the community.
Inspired – because the model puts into words what we strongly believe to be the best way to provide care – our team acted. Individuals from human resources, public relations, information technology, nursing, clinical services, support services and financial services participated in focus groups in order to craft a compelling message for our change.
Then, our team of more than 4,500 made the commitment. Of time. Of passion. Of education. Of understanding. Of change. We did – and are doing – the work.
We found, at the foundation of our collective inspiration, consistency: relationships. Using relationships as our muse, Lakeland Regional developed and adopted "We Promise" statements that will shape our culture.
We promise…
to treasure all people as uniquely created
to nurture, educate and guide with integrity
to inspire each and every one of us to do our very best
These are our promises to you, to our community, and to ourselves. You will see these promises prominently displayed on our walls, within our elevators, and exhibited in our people. At Lakeland Regional, our culture will revolve around these "We Promise" statements. Accordingly, they will be at the heart of our care-taking, our decisions, and our interactions every day.